Before Baby, we have probably been to Malacca at least 8 times in the past few years. We like the drive, the yummy food and of cos, being rather kiam people, we like the cheap-ness of it all.
After Baby, during the dark confinement days, the Hubby tried to cheer me up by planning a trip to Malacca by leaving Isaac with my MIL when he was 3 months. It was a short 2 day 1 night trip where I spent the entire time alternating between enjoying the food and immense guilt.
And so, we decided to do a trip with Baby Isaac at 5 months old. Is it possible you ask, to bring a baby on a 3 hour long road trip to Malacca?
It's so possible, and Isaac enjoyed himself so much, we even did another trip just 3 weeks after our first!
Here's our Malacca experience with a Baby:

Hatten Hotel (Around SGD$100)
We stayed at Hatten Hotel the first time because having stayed there at least 6 times, we are more than familiar with the surrounding shopping and food. The covered link bridge to Dataran Pahlawan mall would also be convenient in event of rain.
Baby Isaac:
The room is nice and big and all, but I'm not so pleased that Mummy and Daddy put me in the living room by myself. (Mummy: Always the further the better!)
The cot is big enough for me to rotate around in but it's quite low so everytime Mummy tried to put me in after I fell asleep I will be jolted awake again! Rather annoying to say the least, wouldn't you wail in anger too if you were me?
I much rather roll around on Daddy Mummy's bed which was big and comfy!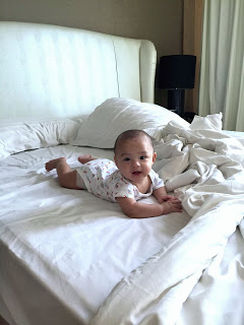 Novotel Hotel (About SGD$100)
Due to unforeseen circumstances, we decided to extend our trip (our car had a flat and broke down just outside of Novotel! The staff were incredibly friendly and helpful so we decided to give them one extra night of business!)
The Novotel room was smaller than Hattan, but it was clean with a nice design. It's located in the Melaka raya area where all the good nonya restaurants are and about 10minute walk to main shopping district.
Baby Isaac:
I like that Mummy and Daddy have to tiptoe around me at night after I sleep and can't even watch tv!
The room has a nice view which I enjoy after my milk while Mummy is trying to burp me. Ahh… Milk with a view, that's life…
I also like all the nice hotel aunties and uncles who always smile and play with me! So friendly!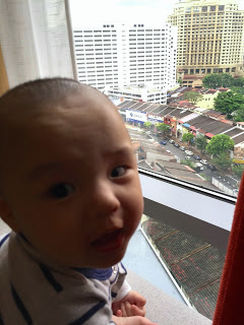 The Pines Hotel (Cover picture!) (About SGD$80)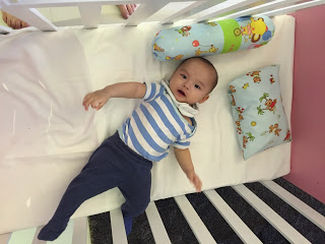 On our second trip, we decided to try out a new hotel in another area. The Pines hotel room was HUGE (45sqm) and really one of the cleanest / nicest hotels in Malacca we've stayed in. And rooms are only $80++ including breakfast!
The only drawback is its location. It is located about 10 minute away from the main tourist district by car, however the hotel offers free shuttle bus to Mahkota Parade and there is also a river taxi station right by the hotel which brings you to Jonker walk.
Baby Isaac:
I think Mummy and Daddy were way too excited about the size of the room.
Ok so we have our own living room and kitchenette. But do they have to put my cot in the kitchen?
Although the provided bolster and pillow are quite cute, the unadjustable cot is also too low for me. Daddy almost threw his back while trying to put me in it… Poor daddy…
Otherwise, I enjoyed the rest of the room, from the sofa where I can play on to even my own little diaper changing area.
"I shall ask Daddy to bring Mummy and I back here again!"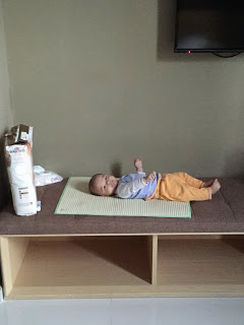 "Yes we came back!" =)
Outdoor playground and swimming pool!
Do note that Malacca can get very crowded in School holiday seasons and hotels can become fully booked. From our experience, it is best to travel during off peak seasons and hotel rooms can even be cheaper than the amounts quoted.
Perhaps when Isaac is older I shall do an in-depth review on the many children attractions in Malacca.