We have probably been to Malacca at least 12 times in the past few years. We like the drive, the yummy food and the good hotels around!
Here are our TOP 4
1) Hatten Hotel (Around S$100)
We first stayed in Hatten Hotel more than 5years ago when it was first build. Till date, we probably stayed 6 more times.
The best part is the location. The covered link bridge to Dataran Pahlawan mall would also be convenient in event of rain. Shopping and food is conveniently located.
Baby cot availability is a big factor. To any family with an infant, this is immensely useful.
Baby:
The room is nice and big but I'm not so pleased that Mummy and Daddy put me in the living room by myself. (Mummy: Always the further the better!)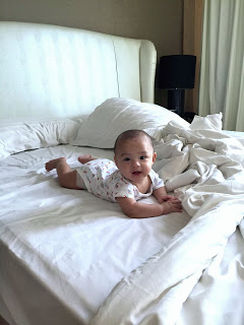 I much rather roll around on Daddy Mummy's bed which was big and comfy!
They have maintained the hotel well over the last few years.
Hotel lifts are also sufficient which help if you to prevent irritating lift waits. There is a big carpark with security at the hotel itself.
Breakfast is mandatory with a hotel room booking and it has always been satisfactory.
2) Novotel Hotel (About S$100)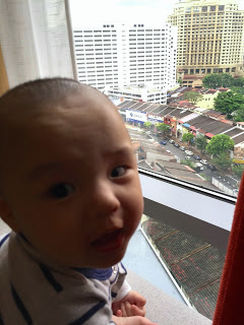 Baby: I can see where we had lunch just now!
Due to unforeseen circumstances, we decided to extend our trip (our car had a flat and broke down just outside of Novotel! The staff were incredibly friendly and helpful so we decided to give them one night of business!)

The Novotel room is smaller than Hattan's but it is clean and well designed. It's located in the Melaka raya area where all the good nonya restaurants are at.
No shopping mall below though. Parking facility is decent.
3) The Pines Hotel (About S$80)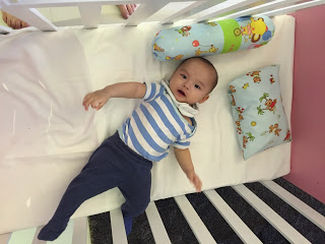 Ok so we have our own living room and kitchenette. But do they have to put my cot in the kitchen?
On our second trip, we decided to try out a new hotel in another area.
The Pines hotel room was HUGE (45sqm) and really one of the cleanest / nicest hotels in Malacca we've stayed in.
And rooms are only $80++ including breakfast!
The only drawback is its location. It is located about 10 minute away from the main tourist district by car. However the hotel offers free shuttle bus to Mahkota Parade and there is also a river taxi station right by the hotel which brings you to Jonker walk.
Although the provided bolster and pillow are quite cute, the unadjustable cot is also too low for me. Daddy almost threw his back while trying to put me in it… Poor daddy…
Otherwise, I enjoyed the rest of the room, from the sofa where I can play on to even my own little diaper changing area.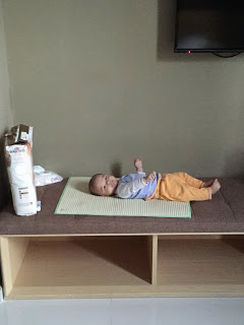 "Yes we came back!" =)
Outdoor playground and swimming pool!
Do note that Malacca can get very crowded in School holiday seasons and hotels can become fully booked.
4) Rosa Hotel: (About $100)
What really impressed me was the hipster vibe the hotel got going for it. And all the decor down to the soft furnishings and even the laundry basket in en pointe with the industrial theme.
The hotel lounge area pictured above is a definite instagram worthy backdrop. In fact, every time we pass by, even on our second stay there, he still insists to "take photo! take photo!"
Baby friendliness
Both times we stayed at the Rosa hotel, their baby cots are in good condition, clean and promptly available.
We also like that the rooms are large enough that we can comfortably put the cot and not have to tiptoe around him.
Shelves are also at a good height to evade little toddler hands (a definite plus point in my book!)
There is also large family suites available.
If you do not drive, perhaps choose Hatten or Novotel. But if you do, Rosa Hotel has ample parking on L1 and there is no need to go to long multi-storey carparks!
Last words
From our experience, it is best to travel during off peak seasons.
Hotel room rates will spike during June and December and will be more than the amounts mentioned.
Other popular hotels include Hotel Equatorial (which will close soon hence not mentioned) and Swiss Garden Residences (Post image). Have fun!